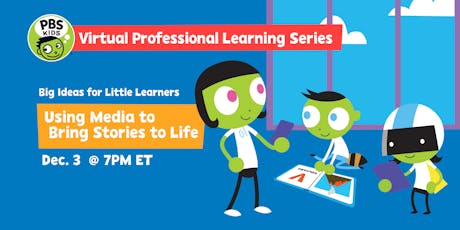 If you work with little learners at home, in a center, or in a school-based learning setting, you'll want to join hundreds of fellow educators on a media literacy journey during this free virtual professional learning series.  You'll explore key topics like what it takes to be a good media mentor and how to responsibly integrate media in your classroom.  PBS will provide a certificate of attendance for each one-hour virtual professional learning event.
The first event in the series, Using Media to Bring Stories to Life, is on Tuesday, December 3, from 7:00pm – 8:00pm.  Since our littlest learners especially enjoy a good story, this session will share ideas and best practices you can use to
inspire creative, young storytellers. This includes a deep dive into different types of media – from e-books to augmented reality – and a look at real-world success stories from inside and outside of the classroom.
To learn more and see upcoming episodes in the series, click here.
You can also view the first episode, Media Mentorship in Your Classroom, here and download the certificate here.