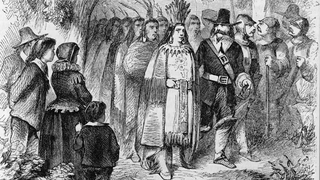 We have a bounty of resources to help learn about giving thanks. (Recent resources we shared for Native American Heritage Month, of course, are also appropriate.  After all, can we really separate Native American heritage and Thanksgiving?)
But, first, the Thanksgiving holiday allows us to thank educators — all those teachers, parents and many others who dedicate themselves to teaching the young to grow strong in mind, body and spirit.
NEPM is privileged to share resources that support your practice throughout the year.  For this holiday, in addition to your own search of "Thanksgiving" at PBS LearningMedia, here are resources from WGH in Boston:
The Pilgrims from AMERICAN EXPERIENCE, tells the real story of the  journey and the first winter. Don't miss the resource on the Mayflower Compact. Grades 3-12.
The First Official Thanksgiving offers evidence that the story of the Pilgrims having the First Thanksgiving is more myth than historical fact. Grades 3-8.
How to Prepare Thanksgiving Food in Space, from the International Space Station. Grades 3-8.
The Chemistry of Tender Turkey from NovaNOW. Grades 9-12.
Minnesota Indigenous Food Lab, the importance of healthy traditional food revitalization. Grades 6-12.
Why Is Culturally Relevant Food Important? Grades 6-12
A History of Thanksgiving, a self-paced, interactive lesson with close reading activities and writing prompts. Grades 6-12.
Ugly Food and Food Waste / Cyberchase, Is there a perfect pumpkin? Grades K-2.
Food Miles, The environmental impacts of our current food system. Grades 9-12.
Winter Squash, All about it! Grades K-5